Your Outdoor Lighting Specialist Since 1929
LED Conversions

Telescoping Poles

Tennis, Pickle ball and any Sports Courts Lighting

New Outdoor Lighting

Existing Site Repairs

And much more
Repairs to An Existing Site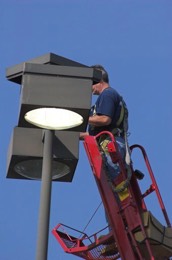 We get calls all the time from frantic homeowners or commercial businesses that their construction job from another lighting contractor has gone terribly wrong and can we please come out and repair the problem? It is a sad fact that many people in our line of business don't know what they are doing, and I want to apologize for that fact right up front. Bieber Lighting has been in business a long time and we think we have seen it all. In any case, we are glad you called, even after the fact, because we are quite skilled at coming into a botched job and making it work the way you intended it to. Some of the more common problems we see include the following:


Finding Electrical Shorts

"Shorts" can be caused by a variety of causes; animals chewing wires, age of system, component failures, etc. Our crews have extensive experience in the location and resolution regarding locating and repairing shorts.

Lamp and component services

As with electrical shorts, our crews have equally extensive knowledge in repairing whatever ails your lighting system. If you have a lamp out, we don't just replace the lamp, we test the other components to make sure that the next time you call, it will be for repairs elsewhere at your facility. Our goal is to locate the problem and remove it.

Tennis, Sports and Game Court Repair

We service all makes of tennis and sport lighting! We also offer in-house refinishing services for your lighting system poles, arms and fixtures. We use commercial-grade 2-part epoxy primers and paint to refinish your system to as-new condition. We partner with other professionals to get that fence repaired, or refinish you court to as-new condition, as well.

Sales and Parking Lot Lighting Repairs

We are specialists in outdoor lighting. We are as close as your telephone when it comes to getting your lighting system back to full operation. It's simple-you call us, we come out and repair!.

Knock-downs

We all know that, occasionally, an errant driver finds a pole in their way - and down it goes! We work with you or your insurance company to get you whole as soon as possible, so you can go about your business. We can repair or replace almost anything we have ever manufactured over the last 50 years!

Other Often-Asked Questions:

• We can perform service all over the state of California!
• We generally work on an "as-needed" basis. We do not offer service contracts, but we offer fast, efficient service, usually within 24 hours of your call.
• All service work is performed on a per-unit basis, i.e., lamp, transformer, capacitor, socket, etc. plus trip and sales tax; Please contact our office for service prices. Most services can be priced fairly closely by your description of the problem.
• For most private estimations, there is NO CHARGE! But to keep our costs to a minimum, we like to schedule service work by area, but service will occur usually within 2-4 days after call.